We Caravan Kerala are pioneers for caravan rentals in Kerala…. , provides affordable and premium taxi services for your holiday trip to Kerala. We have been providing taxi services for the past 3 years and are deemed one of the best around in superior service. We are pioneers for caravan Rentals in Kerala. Caravan Kerala caters to – Kerala taxi packages, houseboat tours, honeymoon packages, Kerala Tour package, Home Stay Packages etc. Apart from leisure trips, we also provide corporate or business taxi packages. All packages are tested and tailored to fit your exact needs. Our fleet consists of economic, luxury, premium, executive cabs, mini vans or buses, tempo traveler, Caravan etc. So enjoy this vacation or business trip in comfort and peace of mind with the right travel agency.
We are a group of youngsters dreaming wildly to come out with innovative products & services in Tourism Industry, and our First Innovative project is to rent Caravans for common man at affordable rates. Earlier Caravans were affordable only by the affluent & Celebrities but now we are introducing our Budget Caravans which is affordable even for Common Man.
Kerala Taxi Service
On this reasonably competitive world, you can find the extensive ranges of tourist taxi services in Kerala. The features that we are offering are 24/7 working hours, no bargain, conditioned vehicles, on time services, licensed and expert drivers. Keep all problems aside and enjoy in the best Kerala trip around. Caravan Kerala is amongst the respected tourist taxi services within Kerala, thus there isn't a question about safety with Caravan Kerala. You can always trust the Caravan Kerala. For best travel experience in Kerala, trust the services of Caravan Kerala.
Book Your Tour Today
View all Kerala Tour Packages and Select the Best One for You.
Best priced packages within your BUDGET &
holiday DURATION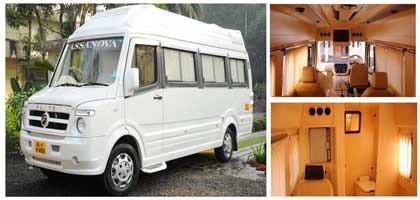 What our Customers Saying
Great Service!!
Thomas Gavo
Great Service!!
Thomas Gavo